There are a lot of things that are being consumed in this part of the world that are not really worth being put to mouth, I know I am going to receive some bashing because many may not totally agree with this article, but I will still like to write about these particular foods. I have seen people eat a lot of things in Nigeria.
Nigeria can be a very funny country where all kind of things are eatable you will always find an area where things you think to be weird are eaten by human beings, things that you sometimes cannot even touch with hands.
This is especially true when it comes to meat; people that eat them would tell you "meat na meat" (meaning meat is meat irrespective of the source).
People eat all kind of things that you can't even think of putting into mouth and you will see some people finding pleasures in them, I am not saying they are truly bad only if I they do and I don't know but just saying most of these things are not worth being eaten.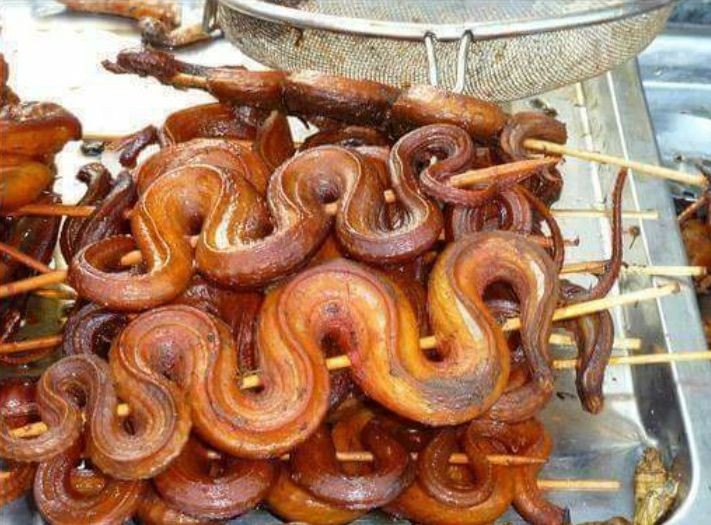 At the appearance of these crawling creatures can make you want to come out of your skin. I simply don't like seeing them and this makes me wonder why someone would eat snakes. Often when I see people go through a lot of trouble to kill a snake (mostly venomous), it just get me thinking – "what if they get bitten by this snake?", "how big is even this snake?" The stress is not just worth it.
Cats.
Yes! Cats, these particular animals are pets in many part of the world and I am very sure people in other climes would be shocked to know that some people kill and eat cats in Nigeria, that's how Nigerian can be.
It got me so astonished when I had some people kill and eat cat I was like wow! 
Eat cat? Who does that? Nigerian does it well o, just can't imagine how irritating that can be, eating of cat, I don't think it worth it.
Alligator.
 This is almost as similar as a rabbit meat if you are not told of what you are eating you may fall victim of eating alligator before knowing what you are eating, if you are the type that get easily irritated with things like that make sure you ask what you are served meat you don't know about the preparation so that you won't end eating what you don't want.
Termites.
 If you live in Nigeria or have ever lived in Nigeria, you should know these insects. 
This is type of insect that children love so much they can always want to eat it, they come out of the bush en masse when rain falls and start circling around any source of light that they see.
We leverage on this as the method to capture them, we switch off all the lights around and leave just one, these insects come around that one and we just pack them with brooms into containers of water. 
Sometimes, they just drop inside the bucket of water themselves after losing one or two of their wings.
A large part of their wings drop in the water, we pack them and roast them with salt inside the pot and make them ready for eating, this particular insect is even being sell in some particular area in Nigeria, many are away that this particular insect, I can't even call them meat because they are just too small I don't know what people derive from eating them especially young ones.
This is also an insect with a horrible appearances look almost like a cockroach, it do make this terrible noise that is so annoying, so funny that we see people that eat this kind of thing, I wonder what is it people are eating in insect, just as though they possess something spectacular like that, you see people talking about as though they are eating pizza, people just eat all kinds of things.
Bush Rats. 
Nigerians eat bush rat but do not eat the ones in their homes.
Maybe because the ones that run around the houses are not big enough because as far as I am concerned, they are the same.
When I said bush rats, I was not referring to those ones with brown furs.
I am talking about those big rats' ones with black furs and even come as far as gutters around houses in some areas.
You can come across them, morning, afternoon and night in gutters around some markets in Lagos.
Sponsored Ads